Egg with Frisee & Prosciutto
When we haven't the time or the energy to pull together something a bit more involved, this quick meal hits every satisfying note — the unctuous yolk breaks over the sharply dressed greens, coating them, and the prosciutto studded throughout provides exactly the right amount of salty crunch.[[MORE]] Method: 1 head frisee, washed, dried and hand torn extra virgin olive oil 3...
Pasta with Roasted Cauliflower
The perfect bowl for a post-blizzard, wintry night.[[MORE]] After a chilly afternoon spent chasing the kid in the backyard and building not one but two snowmen, this is the bowl of piping hot pasta we sat down to.  Good stuff. Of course, everything tastes better with bacon, so Jerry recommends adding a bit of crisped prosciutto to the dish …. Method: 1 head cauliflower extra virgin...
Clementine Almond Cake
[[MORE]] This light, fragrant cake makes for the perfect ending to a lazy Saturday lunch with friends. Serve it warm from the oven, its sticky top lacquered with syrup, or serve it at room temperature the next day. Method: We adapted this recipe from one appearing in the outstanding cook book Jerusalem by Yotam Ottolenghi and Sami Tamimi. Here, we've heightened its bright citrus flavor by...
Beef Stew
Warm, toothsome and perfectly comforting for a crisp October night.[[MORE]] Method: 2 lbs. boneless beef chuck roast, cut into chunks coarse salt freshly ground black pepper extra virgin olive oil 2 yellow onions, peeled and finely chopped 1 tbl. tomato paste 4 cloves garlic, peeled and finely chopped 2 tbl. fresh thyme, coarsely chopped 3 tbl. all purpose flour 1 c. red wine 2 c....
5 tags
Pasta with Bell Pepper Sauce, Pancetta & Arugula
[[MORE]] Method: extra virgin olive oil 4 red bell peppers, cored, seeded and thinly sliced 1 medium red onion, peeled and thinly sliced 1 c. cherry tomatoes, halved sugar coarse salt 1 lb. pasta 5 slices pancetta a few handfuls of baby arugula freshly ground black pepper Preheat the oven to 350 degrees F. Lay the pancetta slices on a parchment paper-lined baking sheet. Bake until...
Salmon with Rosemary
[[MORE]] Method: 2 salmon fillets 2 fresh rosemary stems 1 lemon, thinly sliced, seeds removed coarse salt freshly ground black pepper a glass of dry white wine Preheat an outdoor grill over medium-high heat. Lay each fillet on a generous square of aluminum foil. Remove the needles from the rosemary stems. Roughly chop the needles and scatter a bit over each fillet. Season the fillets...
4 tags
Grilled Shrimp with Garlicky Smashed Peas
[[MORE]] This one's perfect for a light lunch and looks great in smaller bowls — don't hesitate to greedily run the shrimp through the pea puree — but it's equally beautiful spread out on a serving plate for your guests. Make the peas ahead of time, light the grill and enjoy a beer in the sun while this simple lunch comes together effortlessly. Method: 1 head...
4 tags
Egg with Roasted Mushrooms & Pancetta
[[MORE]] Eggs gently fried in olive oil are a go-to weeknight dinner for us. Piled on top of a crisp, lightly dressed salad, the yolks break and coat the leaves, making for a quick and super satisfying dinner. Here, we've married our favorite eggs with some oregano and pancetta-spiked mushrooms and a bit of ricotta salata. It's perfect for a weeknight dinner or a lazy weekend...
Radicchio Slaw
Summer is officially here and that means we've been firing up the grill on the weekends … and most weeknights, too. On these late summer evenings, we want to maximize our time outside with Owen and neither of us wants to waste a lot of time indoors in the kitchen. Which is why this quick slaw is an easy choice: the bitterness of the radicchio is nicely balanced by the honey-sweet...
4 tags
Tomato Salad with Lemon Basil Pesto
Summer. Late Afternoon. Shore Food.[[MORE]] Method: A few handfuls of small heirloom tomatoes, halved 1 handful perlini mozzarella flaky sea salt For the pesto: 1 c. basil leaves 3 tbl. parmesan cheese, finely grated 1 clove garlic, peeled and roughly chopped 3 tbl. extra virgin olive oil coarse salt freshly ground black pepper zest of one lemon 1 tbl. lemon juice In a food...
5 tags
This Is Not A Food Post (Reprise) →
These wondrous three years.
Buttercream Cupcakes
[[MORE]] We're still big champions of the whoopie pie, but sometimes only a homemade cupcake will do — and Owen is a huge fan of these "chocolate cakes." This recipe should yield something just shy of 4 dozen cupcakes — about enough for a toddler's birthday party. Method: For the cupcakes: 2 1/4 sticks unsalted butter 1 1/2 c. all purpose flour 3...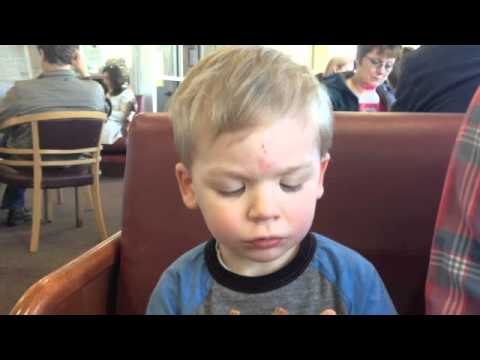 6 tags
Baked Artichoke Hearts
Stuffed artichokes are a Sunday favorite in our house. But on those days when the thought of prepping, stuffing and baking whole 'chokes feels just a bit, well, overwhelming, we'll turn to this deconstructed version and happily gobble our way through an entire pan. If you like, serve them up with a whole roasted chicken and some well dressed greens.[[MORE]] Method: 2 14-oz....
2 tags
Trying to explain to a two year old that "charred"...
                                                              Because he's right.
3 tags
5 tags
5 tags
Game Day Meatballs
Football. Beer. Meatballs. All credit for this fine Game Day recipe goes to Uncle Gary, who wowed our extended family with these spicy-salty-sweetly-sour beauties on Christmas Day. These were the first appetizers to disappear from a table already laden with holiday goodness, and his recipe is already in heavy rotation with the grandparents, aunties and uncles. On this, the first real...
3 tags
2 tags
6 tags
Split Pea Soup
Something smoky and soul satisfying for a bone-brittle winter day. The combination of peas and pork is just too darn perfect — and it's always been one of Owen's favorites. Now that he's fast approaching three years old (!), his palate has graduated to one of our favorite winter dishes: the humble split pea soup. Serve it up with a bit of crusty bread and a nice crisp...
5 tags
Whoopie Pies
We know, we know: cupcakes are great. But they're everywhere, in every size and flavor, and everyone seems to have an opinion on the city's finest (Magnolia, Buttercup, Baked by Melissa). It's enough to leave us with a serious case of cupcake fatigue. So when it's time to pull out the baking sheets and turn out something sweet, we make the official state treat of Maine:...
4 tags
2 tags
4 tags
Christmas Toast
After Owen's safely tucked in on Christmas Eve, these two dads face the season's stiffest challenge: helping Santa assemble Owen's toys before dawn. It's invariably a late and bleary-eyed night, and one or both of us might use some colorful language here and there. Morning comes far too quickly, and neither of us wants to waste time in the kitchen pulling together...
4 tags
Latkes
Of course it makes complete sense that these two dads, both former Catholics raising their son in the Episcopal faith, are now in charge of the latkes for their son's preschool Hanukkah party. Complete sense. If you can convince your grandmother to share her recipe, we'd be eternally grateful! For now, we'll muddle through with these (and they sure are darn tasty). Method: 4...
3 tags
Baked Pasta
Jerry and his colleagues recently attended a cooking class where among other dishes they turned out a lovely baked pasta. It was exactly what the doctor ordered now that the air has a chilly bite to it: toothsome pasta, studded with radicchio and mushrooms and coated with a decadent cheese sauce. Here's our attempt to recreate it at home. Method: 1 lb. dried penne coarse salt 8...
2 tags
2 tags
2 tags
"Dad to Son: "I love you, Owen." Son to Dad: "I. Love...."
3 tags
Baked Beans
Baked beans hold a special place in Scott's heart. This was the dish that simmered slow and steady overnight, buried (literally) in a stone-lined fire pit, then dug out and served hot and bubbling next to scrambled eggs and brown bread. Happily, this version doesn't require digging a hole in the backyard, but it's every bit as satisfying. Method: 1 lb. dried kidney...
Thankful
3 tags
Spoon Bread
Dusk comes far too early in the northeast this time of year. So there's nothing more welcome on our dinner plates right now than a good fist-sized wedge of this sun-yellow spoon bread. It's a great accompaniment to almost any meal — here, pan roasted cod with some haricots verts and edamame dressed up with truffle salt and truffle butter. All just perfect for this rain-sleety...
5 tags
Coq Au Vin
On a recent crisp fall night at the shore, our neighbors, David and Margie, treated us to a lightly dressed salad, big bowls of coq au vin and a dense, chewy baguette just perfect for mopping up this delicious stew. Paired with a sturdy red, it was a one-pot wonder for a clear, windy night at the beach. We haven't yet replicated Davis and Margie's excellent version, but this comes...